One of the most visited retail and leisure destinations in Singapore, Tampines is home to a large part of the population in the East.

In the coming years, Tampines is poised to grow further with new housing, shopping facilities, more parkland and other amenities at Tampines North.
Transport within Tampines will be augmented, including new rail lines like the Downtown Line that will offer residents and visitors shorter, more comfortable and convenient commutes.
---
How towns are planned
Our towns are planned with a comprehensive range of facilities to meet the needs of current and future residents. These include housing, shops, schools, libraries, sports facilities, community clubs and parks – all important in ensuring a liveable, self-sufficient town. The facilities are carefully distributed across each town to ensure good accessibility, supported by an efficient transport network.
Most towns also have commercial nodes and other employment centres such as industrial estates and business parks within the town or nearby, to provide job opportunities close to homes.
These facilities and employment centres will be developed according to demand. The detailed planning and implementation of plans for each town is a joint effort of many government agencies.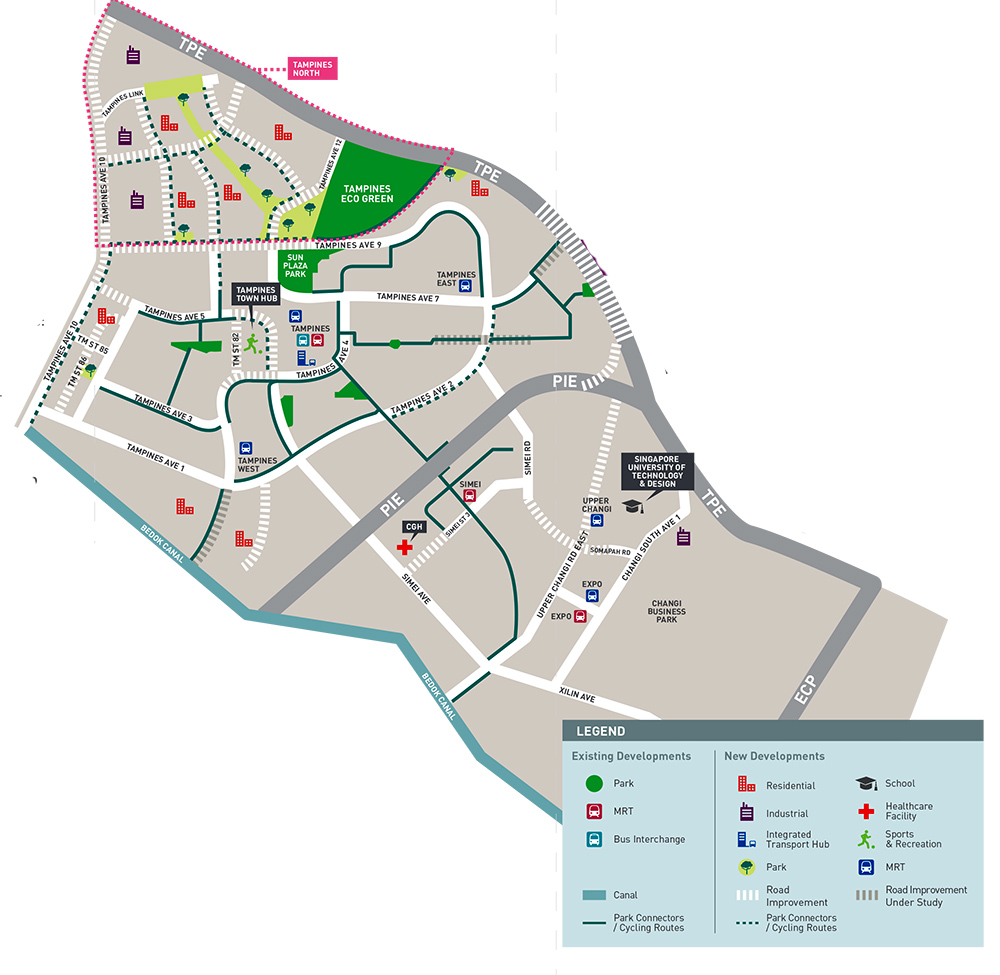 ---
Housing: Better living through a better environment
The new Tampines Town Hub will be Singapore's first integrated lifestyle hub in the heartlands, bringing retail, sporting and other community services together in one convenient space where residents can gather, interact and bond.
Tampines North is set to become an integral part of Tampines. When fully developed, Tampines North will provide about 21,000 new homes for Singaporeans. Transport and other facilities will accompany the building of Tampines North to ensure a highly liveable and well-connected living environment for residents. Future developments that residents can look forward to include:
Expansion of Changi General Hospital
A new Integrated Transport Hub (ITH) with MRT and bus interchanges co-located with residential and commercial uses after the completion of the Downtown Line at Tampines Town Centre
New amenities to complement new homes in Tampines North
In the longer term, Tampines North will also have two primary and two secondary schools, and a new community centre
Economy: Quality jobs closer to home
New developments in Tampines will boost the number of jobs available, giving residents the opportunity to work closer to home.
What residents can expect:
New industrial sites within Tampines North along Tampines Avenue 10 and next to IKEA, Giant and Courts.
More employment and educational opportunities from the continued development of Changi Business Park and the Singapore University of Technology and Design (SUTD)
Transport: Getting you there and back
Alongside the new ITH at Tampines Town Centre, residents can look forward to smoother travel with these enhancements to roads and public transport services, including:
Enhanced transport connectivity with 5 new MRT stations (Tampines West, Tampines, Tampines East, Expo and Upper Changi) along the Downtown Line, which will be completed by 2017
Expansion of the cycling network in Tampines Town and new cycling routes in Tampines North
Two new roads, Tampines Street 85 and Tampines Street 86
Improvements along Tampines Expressway and Pan-Island Expressway
Extension of Tampines Street 82
Improvement of Simei Street 3 (From Simei Avenue to Simei Street 1), Tampines Avenue 4, Tampines Avenue 5, Tampines Avenue 7, Tampines Avenue 9, Tampines Avenue 10, Tampines Street 82, Bedok Reservoir Road and Tampines 23/ 32
Road and Tampines 23/ 32
Leisure: Green and blue spaces come alive
Parks and waterbodies are within easy reach of residents in Tampines including Sun Plaza Park, Tampines Eco Green and many neighbourhood parks. Residents also have convenient access to the nearby Bedok Reservoir Park. Park connectors running along Bedok Canal and along Sungei Tampines connect to the Eastern Coastal Loop, linking Tampines to East Coast Park and Pasir Ris Park. In the coming years, a number of initiatives will be implemented to ensure that most homes in Tampines will be within 400m of parks or park connectors. These include:
Setting aside substantial park land in Tampines North for Boulevard Park and Quarry Park that will bring greenery to the doorstep of residents
A new park connector running between Tampines Avenue 10 and Tampines Avenue 9, to link up the Bedok Reservoir Park and Pasir Ris Park
New neighbourhood parks at Tampines Street 86 and off Tampines Avenue 9